October 2021
Woodstoves
1. Acorn Voyageur woodstove... circa 1970s. 25D x 36W x 30H
$50 or open to entertaining cottage trades... humour us!
New door seals...Additonal photos available on Google.
2. Haugh S-127 Woodstove
Dimensions are 29w x 21d x 27h... stove pipe is 6" diameter. Blower/fan adds 5.5" to the depth. Recently painted with new door seal. Asking $250.
German Bay... you bring the muscle. we have the barge to deliver.
Dave & Dawn Elise Nurse
613 661 2554
---
September 2021
4 blade ceiling fan with either plug in or direct wire hook-up. $40
Knotty Cedar Entertainment Cabinet
W=36 ½";
D=22";
H=47".
Includes 2 shelves and the lower shelf is adjustable and removable.
Includes 2 drawers
Stairs 3-4 step stairs in different widths. $20 each
Kitchen Taps: Waltec 2 handles $20
For any of the above, Call Stu Boardman 613-829-6003 OR 613-336-2116
---
May 20, 2021
For sale: 1500lb electric winch. Nearly new and used twice to pull up our dock. No longer needed. $100.
Contact Liz at 905 706 1859 or 613 336 2045.
===================================================================
For sale: Dearborn propane cottage heater
Posted Feb 8, 2021
Please see below photo of vintage Dearborn propane cottage heater available for purchase.
Dimensions: 32 h x 28 w x 16 d (approximately)
Sale price: $100.00
Contact Brian Fletcher at 416-989-6428 for additional details.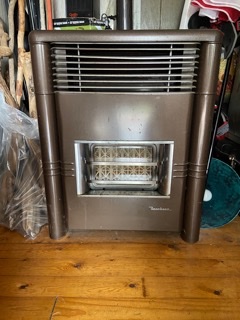 =============================================================
Free: Composting Toilet
Posted August 8, 2020
Under cottage composting unit with porcelain toilet. Older model. Fan works. Hooks up to water. Will deliver on Maxinaw if needed.
Contact Mike or Darlene Bunn at cell 905-376-6630 or cottage 613-336-3344.
========================================================================================April 2021
Free clean galvanized water barrel 48'' high and a diameter of 34 1/2" with a loose lid from an old cottage water tower. Contact: Arndt Kruger: akruger@trentu.ca
========================================================================