June 2021
For sale by donation
This boat will go to whoever pledges the most to my friend's campaign toward Parkinson's research by 9 July 2021 at 6 pm. Free delivery to Mazinaw or Peterborough areas or in between.
Email your promise to me at my personal address or this temporary one woodboat@dgmclaren.33mail.com
The fundraiser information is at www.kevinwhitaker.art
The boat was originally built by Giesler in Powassen Ont (probably in the early 80s) and sold by the Tender Craft Boat Shop in Toronto as a "Shawnee".
It is a 12 foot cedar strip row/sail boat that has been fixed up to be serviceable (ie not a real restoration to factory finish - imperfections included).
The outer gunnels, corner deck pieces and upper transom were replaced, the fibreglass removed and replaced then everything was varnished and the bottom painted in a classic marine green. All the necessary bits for sailing or rowing are present. Nice brass hardware!
Feel free to forward this to the nautically minded and thanks for your time.
Don McLaren
=============================================================

=============================================================
April 2021
J Craft with 115 Mercury for sale.
In the water at 3750 north mazinaw.
At the south point, entrance to German bay
Asking $6000.00.
Includes a tonneau cover and trailer.
Please text or call 705-606-2388. Cell service is not great, so please leave a message if calling.
========================================================================
April 2021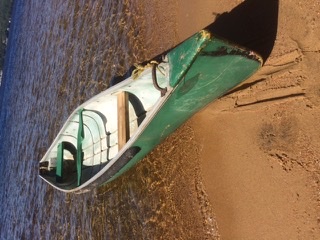 16' SQUARE END FIBREGLASS CANOE
— $100 proceeds to go to MPOA
— older, green, outboard up to 3.5hp, moulded keel, aluminum gunnels, carrying yoke, not light
========================================================================