POSTED |
August 21, 2018 - Ontario Ministry of Natural Resources and Forestry
A reminder from MNRF to be Bear Wise at the cottage
Be Bear Wise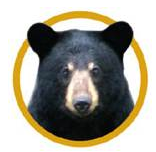 With summer in full swing, the Ministry of Natural Resources and Forestry (MNRF) is reminding residents and cottagers to be Bear Wise and do their part to prevent conflicts with black bears.
Most human-bear conflicts occur when bears are attracted by smells and rewarded with an easy meal. When bears pick up a scent with their keen noses, they will investigate it. If they find bird food, garbage or pet food, they will return as long as the food source is available. You can help deter bears from visiting your property by removing attractants, such as open garbage, bird feeders, pet food, ripe fruits and berries, and grease and food residue from barbecue grills.
For more tips on being Bear Wise at the cottage and elsewhere, please visit Ontario.ca/bearwise
Should you have questions, please contact the MNRF Media Desk at MediaDesk.MNRF@ontario.ca or (416) 314-2106.
Thank you for your interest in this important message.
Regards,
Debbie Thibault
Regional Outreach Specialist
Regional Resources Section, Southern Region
Ontario Ministry of Natural Resources and Forestry
300 Water Street, Peterborough ON K9J 8M5