POSTED |
August 21, 2018 - Francine Bates
MPOA kayak trip August 18, 2018
Mississippi River Adventure
The day started out looking like it might rain but it turned out to be perfect weather for a kayak. Not too hot. The sun came out a few times but it was mostly a little overcast. We enjoyed a leisurely paddle, with good conversation.
It was nice to see a few cottagers from the lower Mazinaw rolling in to Brown's with their kayak's on the roof of their car. We had a small group; a very enjoyable morning and those who had never been up the river, were happy to have experienced it. As Richard Colden said "I have been coming to Mazinaw since I was a baby but I have never been up this part of the river. I'm happy I have now."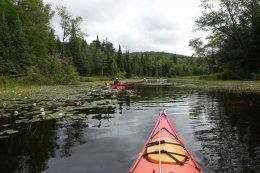 Thanks to Ian Philips for taking the pictures.